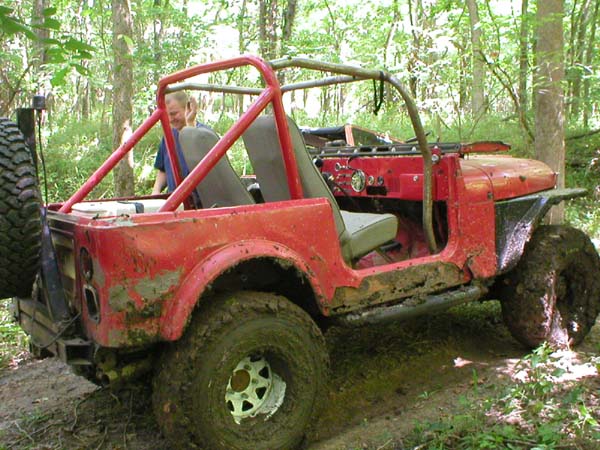 Ford Powered CJ7
For the most part this site is being posted because of my dedication to my trusty Jeep CJ7. It may no longer look like it did from the factory but for the most part it still resembles the Jeep that I wanted it to be when I bought back in 2000. There have been a few alterations here and there, some more noticeable than others, but still just as important. Unlike most Jeeps that are seen on the road that have been modified to look like they actually are used the way Jeep intended, off-road. Sure it may look nice now but that does not mean that it never sees the trails. I try to get out at least once a month. But most of the time it is every other month. Jeeps are meant to be used.
After 2 years of searching for just the right body tub!
It all started one day when I went to the junk yard to find some parts for my trusty old Jeep. I traveled for an hour to my favorite junkyard to see if I could find a different fan to keep it from hitting the radiator. It seemed like an ordinary day when I arrived at the junkyard. It was a chilly Saturday morning. After signing in at the desk I proceeded to wander through the yard (I love the you pick em yards, you see stuff they don't often want you to see). Low and behold, what do I see, but a 95 wrangler stripped down to just the body and frame. I could not believe my eyes, it was in the pile to be smashed on Monday. I just couldn't let that happen, so I proceeded to negotiate what I believed to be the sweetest deal on this little prize. After what seemed like hours I told the owner I would be back on Sunday morning to take it off of the frame and load it on my trailer. I should just start taking it with me when I go from now on.
The story does not end there. Read on to see what else I have in store for this "Project". It is never ending...
Random Images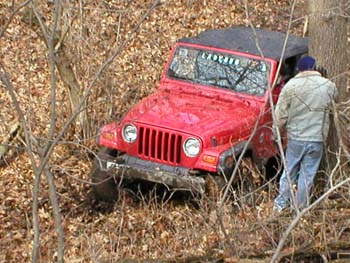 Recent Updates
I have done some recent upgrades to this build as of 3/7/2010. This is just a small portion of the updates that I have added, they include:
Dana 44 Diff Cover
While the carrier was on its way I decided that I would try to make a new Diff Cover for he Dana 44 axle. I had searched previously to find a DXF file with good enough dimensions to cut on the CNC Plasma. Since the cover was off and I had time I just created […]
Gear Swap
Decided it was time to do a gear swap on my Jeep. there is only so much you can do with 33″ tires and 3.53 gears. most of the time I have the clutch pushed in because even in low range i was moving to fast for the obstacle in my path. So i headed […]
Next Project?
After not having access to be able to machine any new parts for myself and not wanting to have to pay someone to make something that I can make myself, I am feeling the need to step up to another CNC machine. Since I cannot make the parts myself I am having to resort to […]